Stories about special Barbie® Dolls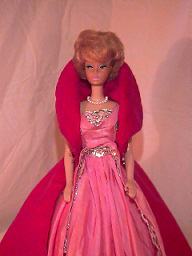 Blonde Bubblecut Barbie in Sophicated Lady
Bethany Sefchick's Story
As a goofy high school kid, I used to frequent a local flea market to try to enhance my slowly growing Barbie collection. I never found much, but I always kept looking. One day I stumbled onto a collector's table and, oh the things she was selling! Piles and piles of vintage dolls, clothes, and accessories as well as some modern items as well. I bought only a few things at first, but kept going back week after week as I saved up my allowance and yard work money.
Over time Shell (yes, that was her real name!) and I developed a kind of friendship based on Barbie. She used to hold items for me (like the very first international dolls) until I arrived so I could get first crack at buying them. Finally one day, she told me that she was selling off a few items from her private collection, most of which she knew I already had. But she said that there was a doll and outfit that she knew I didn't have, and would absolutely love. The two didn't originally come together, but she would sell me the outfit on the doll for $50.
I finally decided to buy the doll after two weeks of debate, even though I thought the price (for me anyway) was rather steep. I couldn't sleep the night before because I was so nervous not only about spending that much money on one thing, but because I wasn't even sure if I would even like it!
The day I got to the flea market, I went directly to the table and saw this magnificent doll in a polished cherry wood and glass case with a small sign that said "hold" on it. I knew that had to be the doll Shell was going to sell me!
When Shell took her out of the case for me to look at, she explained to me what exactly I was buying. She said it was a 1964 ash blonde bubble cut Barbie with coral lips wearing the outfit Sophisticated Lady, both mint and complete. I didn't really pay much attention to what she said. All I could see was the doll. She was beautiful! Exquisite face paint with no rubbing marks or chewed limbs. Never even taken out of the box until about two months before. And the gown.... Rich fabric, vibrantly colored, and detailed with the most adorable accessories. Even a tiara!
I took my treasure home that afternoon and placed her on a shelf of honor in my family's collectibles room. She has never moved from that spot. to this day. I do take her out and play with her, but when I am finished she goes back into her display case.
I bought other vintage pieces from the woman over the years until I finally bought most of her collection. But none of the other dolls or clothes or playsets that I bought later gave me the same thrill that first bubble cut. And no doll that I have bought since has held that kind of magic for me.
Bethany Sefchick
State College, PA
Email her at: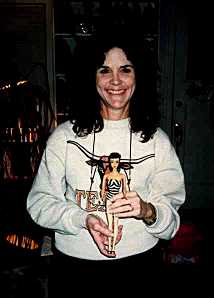 Suzanne's Christmas Story
Some of you may remember in my intro the story of my lost childhood doll. On 12/23/96 my daughters returned from visiting their dad in another city and brought back all of their barbies. We went through 4 boxes as I thought there was a good chance my doll was mixed up with theirs, but came up empty handed. There was one perk, though. Out of one of the boxes popped up my Poor Pitiful Pearl doll. I knew I had given her to one of the girls to play with. Fortunately, I had kept her box and original clothes even though I hadn't been able to find the doll.
When we opened our gifts on Christmas Eve, I was delighted to find an Arizona Jeans barbie from one daughter, Jewel Haired Midge and a Gene fashion from another daughter and the gorgeous Gene Blue Goddess from my husband. Technically he also gave me the Moon Goddess, but I snatched it the moment it arrived a day or so before. With all my children together for the first time in several years, I was in seventh heaven. As I started to get out of my chair they all told me I had one more gift to open that had been imported at great time and expense by them. They went to a car and brought in a wrapped box. I thought it was going to be an air mattress for the overflow of people to sleep on as I had been going to buy one the day before and they all told me to wait a couple of days. The box was about the right size.
Yea, you guessed it. When I opened the box and saw my doll and clothes that had been resting in it for the last 37 years I cried like a baby. They had 2 video cameras on me to be sure they caught my reaction and they sure got their money's worth. After the cameras were off and I had settled down a little my son-in-law came up to me and said "You have to go through this box. You won't believe what all you kept, I couldn't believe it!" They didn't understand how much I loved this doll. Of course, there were dishes for her, diaries, school books I had made and on and on. Also to my surprise there was her original box. I really didn't remember keeping it. Outfits that were in there complete were: swimsuit w/sunglasses & shoes; Commuter Set (vinyl gloves and shoes with holes); Apple Print Sheath; Undergarments#919; Resort Set; Nighty Negligee Set (appropriately, this is was she was wearing!); Suburban Shopper (monotone heavier weave tote shown in Eames book with metal dial on phone and shoes with holes); Silken Flame and Friday Night Date(Yea, both straws!) I'm still missing the other box I had with more clothes in it, but I am so grateful to have regained what I did I can't complain.
Christmas is indeed a time for miracles! Thanks for taking a moment or two of your time to share in my joy and excitement.
Suzanne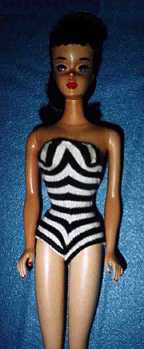 click here to see larger picture