To go Fashion Doll Favorites
To go Sher's Favorite Dolls
---
Sherri's Introduction
10-30-00
I am an occupational therapist in the public schools... I work with children who have problems - from learning disabilities to children with cerebral palsy. In my work with children - the element of play has been a key factor.
As a child, my dolls were the world to me and and they continue to fill my world with joy! I have collected and loved dolls all of my life.
What I have collected has had lots of ebbs and flows ...
I have collected several types porcelian ones - German Bisque, my reproduction French Porcelian ones - both ones I bought and ones I made. I have Mother's collection of foriegn dolls, mostly from 40's and 50's, there are composition dolls - Mary Hoyer type dolls,a couple madame alexanders ( cissy, Wendy, and elise) and my sister's Beloved Sweet Sue (I am perserving the family dolls - hopefully for the next generation :-} my vinyl American Character Sweet Sue 22" tall plus couple Ms. Revelon's and Dollikins. These are the older ones in my collection. I have some of the larger vinyl dolls - llse Whippler, Jennifer by Lee Middleton, Fiba. Oh, and of course let us not forget - Starr, Princess Tenko, Dawns and Family Corners dolls. And I have lots of Fashion dolls other than Barbie - lots of look alikes and celeb. dolls. My passion over the last years have been those not available in the States - Sindy and Jenny! And let me not forget Gene!! And now add Daisy from Knickerbocker and Tonner's Tyler.
Barbie used to be the overwhelming presence in what was displayed and now there are many many other types of fashion dolls.
I could not be happier ;-}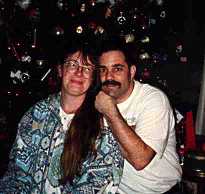 Danny and Me
---
Sher's Favorite Dolls
Next Page | Back

Barbie®, Ken, Skipper, Midge, etc are registered trademarks of Mattel, Inc. I am not a representative or an employee of Mattel, Inc. or affiliated with Mattel, Inc. in any way. Barbie® is a registered trademark of Mattel, Inc.